Blog
/
TIK TOK , DOUYIN: what is the difference?
TIK TOK , DOUYIN: what is the difference?
A group of developers, led by entrepreneur Zhang Yiming, is putting out the latest app with which it hopes to conquer the new short-video platform market.
The long-awaited launch takes place in September.
The group decides to call the app Douyin, and in less than a year it gather over 100 million users.
TikTok alone has been downloaded over 3.5 billion times, thanks to a smart algorithm that attract us recurrently to the screen, causing concerns.
The tool collects a lot of information: your age, your location, your device…
It's no surprise, then, that it has raised the suspicions of several governments.
These concerns are compounded by what is happening with the Chinese version of TikTok, Douyin, an app that is heavily censored and, according to several reports, designed to encourage the viralization of educational materials…
But what else do we know about Douyin? And how does it differ from TikTok?
The origin of Douyin
Douyin dominates the short video app market in China.
At the end of 2022, it had 730 million users.
Douyin and TikTok are essentially the same app. Both allow their users to create, share and watch short videos.
Both tools have the same logo and they share the same parent company, ByteDance.
When launched in 2016, Douyin quickly stood out for its fresh and humorous content.
Simple pranks like lip-syncing, while the song of the moment is playing, spread quickly.
Then came the viral challenges, and the app's popularity skyrocketed.
In the beginning, young people would share and watch short music videos. Now it has widened and different styles have appeared, such as medium and long videos.
The platform offers a wide variety of categories, including entertainment, news, commentary, food, animals, health, and educational contents.
Like the most popular Chinese multi-function apps, such as WeChat, Douyin enables food delivery and local restaurant recommendations, for example – a range of possibilities that TikTok does not currently offer.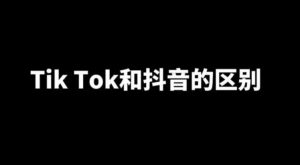 How is Douyin different from TikTok?
Navigation in both applications is pretty much the same: an identical layout and simple menus, which make it easy to create, play and find videos.
But there are several differences.
First, opening an account on TikTok is not the same as opening an account on Douyin.
At the time of their launch, live streaming was more established in China than in the rest of the world. This is why, from the beginning, Douyin encouraged exchanges between its users. TikTok will only make this feature available with the arrival of the lockdowns imposed by the Covid-19 pandemic.
Likewise, donations to content creators are traditionally more common on Douyin than on TikTok.
Another key difference is where the data is stored. With TikTok or any other social network, most of us assume their use through a tacit agreement: we offer personal information in exchange for entertainment.
Douyin users are still young, but a bit older than TikTok users.
That's why Douyin has more lifestyle content, professional advice and even videos from local authorities."
TikTok hashtags and trends also vary based on location and cultural differences.
E-commerce is becoming more and more popular in Douyin.
You can even book hotels and make restaurant tours.