Blog
/
LEARN ABOUT SOME SUCCESSFUL WECHAT DIGITAL MARKETING CAMPAIGNS
LEARN ABOUT SOME SUCCESSFUL WECHAT DIGITAL MARKETING CAMPAIGNS
Before you start doing or planning your WeChat Marketing campaign take a look at these successful stories as there can be new ideas for you.
1/ Burberry CNY 2016 WeChat digital marketing campaign. The most important festivity in China is Chinese New Year. Burberry decided to launch a WeChat marketing campaign for this season. They sent a photo of a cylinder shaped gift box to its followers. Fans needed to follow the instructions: "Shake, tap and swipe to try and open the gift". By following the instructions they were able to find what was inside. After they opened the gift, fans received a greeting letter from Burberry which they can personalize and send to their friends. This was a fun and unique interaction between Burberry and its WeChat fans. This is a good example of using HTML5 to create special experiences for your fans and have a positive brand image.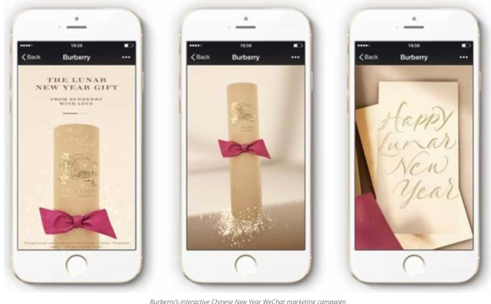 2/ Uniqlo, the 020 Success. The Japanese apparel designer has gained popularity in many countries in the World. But they quickly understood that China was a very unique market in which mobiles dominate the way of life. This is why they develop the 020 campaign (Online to Offline) in which they promoted their initiative "Style your life". In stores, consumers may try some clothes they liked and then stand in front of monitors equipped with cameras to take pictures of themselves with different backgrounds of New York, Tokyo or London. The picture was sent after to their WeChat accounts. One third of the consumers who received their picture posted it in their Moments. This campaign has a huge success, with 30% increase of sales for featured items alongside an increase from 400,000 to over 1,000,000 followers. A great strategy to increase your fans on WeChat and to create WeChat moments advertising.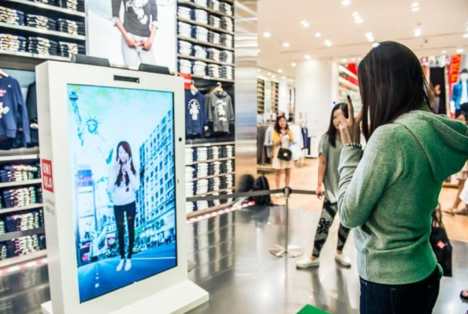 3/ Otte, the New York based shop that stole Chinese's hearts. Otte, a women's fashion boutique based in New York has a very small structure but 50% of its e-commerce sales are from Chinese people living both in United States and China. What made Otte different from the other brands is that they invested in an amazing WeChat content marketing and a very attractive WeChat site. Thanks to their popularity in China they opened a second store in Shanghai. And being small hasn't stopped them for being digitally strong thanks to their effective digital marketing. This proves that a small company can have a big success if they focus on giving their fans what they are looking for.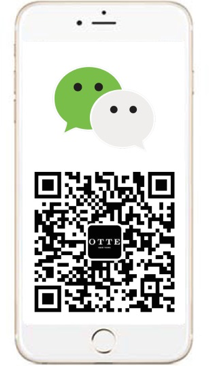 4/ Zara link to mini program. Zara is a huge fashion store chain known all over the World. But China represents a big part of their revenues, reason why they have a constant WeChat Marketing campaign. In 2018 Zara found a very creative way of showing their new line of clothing. At the end of a very attractive post, they inserted a card for their mini program, where fans could click in and seamlessly browse to see more products, share their favorite ones, and even buy them without leaving WeChat. This is a great example on how to create an effective link to your mini program in WeChat.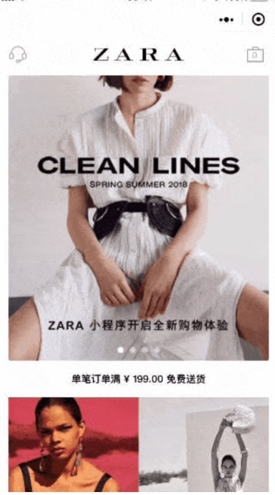 5/ It doesn't matter how if your WeChat Digital Marketing campaign is very big or small, what counts is to do an effective campaign offering your fans what they are looking for.