Blog
/
China e commerce miracle: Tmall breaks new record on Single's Day in 2019 at $38 billion
China e commerce miracle: Tmall breaks new record on Single's Day in 2019 at $38 billion
This year, China e commerce giant Alibaba once again managed to break its own record at the world's largest shopping festival – Single's Day, recording at 268 billion RMB (38 billion USD) within 24 hours, a 26% YOY growth on its Tmall platform.
Why are more and more companies worldwide starting to enter China e commerce platforms and especially Alibaba?
The following data reveals us the answer.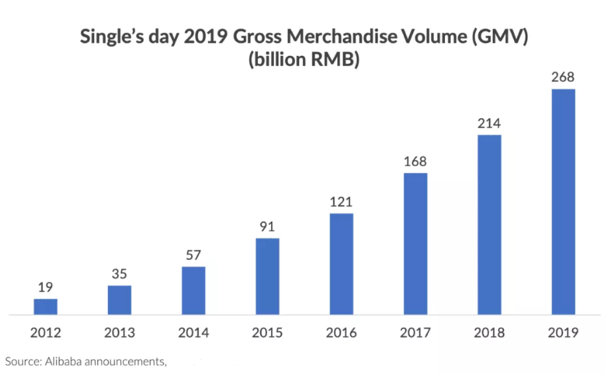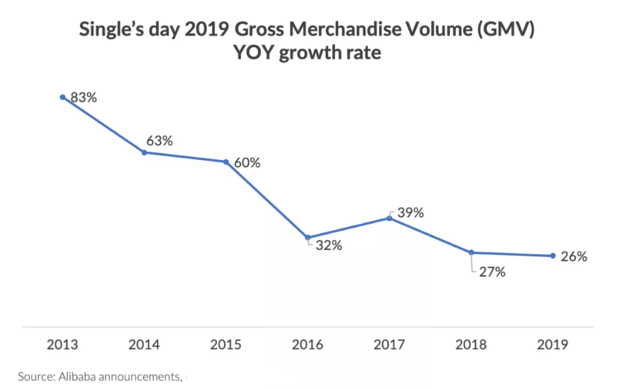 The day also set a new technical record, peaking at 544,000 transactions per second. Alibaba is relying entirely on its own Alibaba cloud to handle the traffic smoothly which is a huge technological performance.
Important marketing tools of China Online promotion for Single's Day
Although live streaming is not new in China, 2019 is the first year live streaming has played such an important role in driving online sales. Year-on-year growth of the deals driven by live-streaming reached at a staggering figure of 400%.
Besides WeChat (owned by Tencent), promotion on Douyin (famous App owned by ByteDance), is also attracting increasing attention. While WeChat and Tmall block each other, Douyin gets a lot of traffic from WeChat and integrates well with Tmall, helping to drive sales of Single's day.There is no doubt that Douyin marketing has become a good way to increase sales on China e commerce platforms and to compete with Wechat marketing.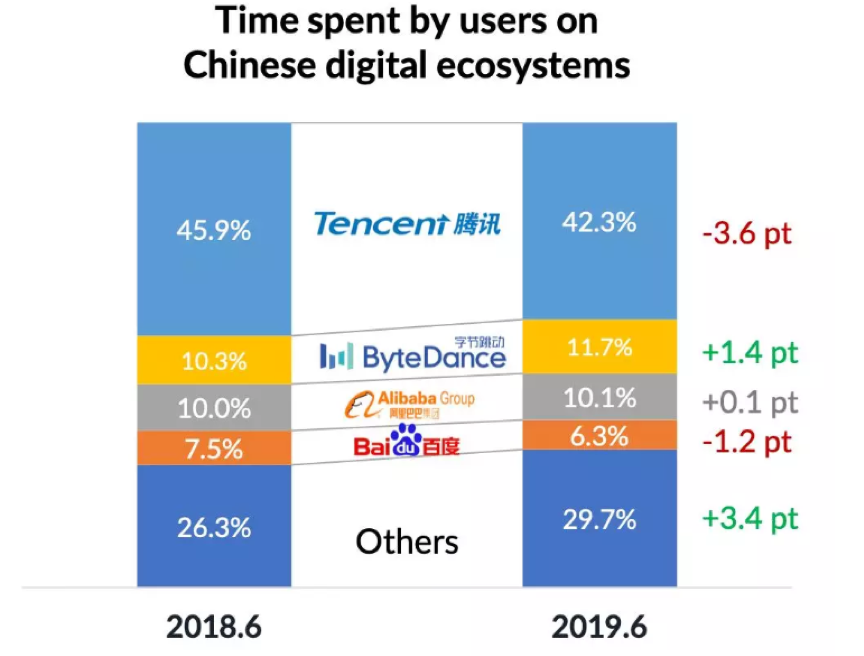 Despite its dazzling sales figures, Tmall is not the only beneficiary of Single's Day.
According to Syntun Data, the gross merchandise volume for the period of November 11, 2019 is RMB 410.1 billion ($586 billion).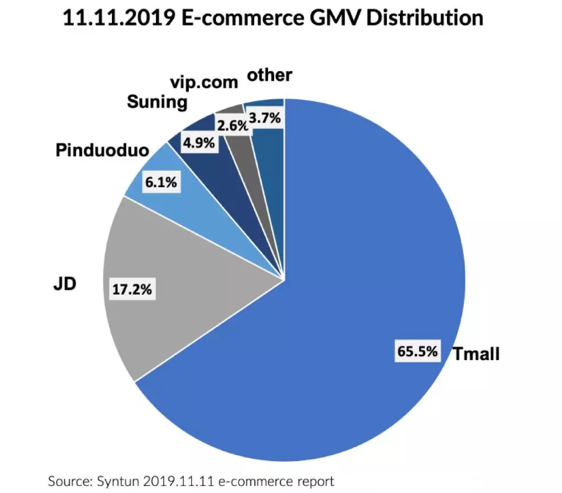 Here are the official figures for some of Tmall's competitors:
On November 11, JD achieved sales of 204.4 billion yuan (a year-on-year increase of 28%).
Suning's 1-hour order volume increased 89% year on year with total GMV increased 76% year on year.
Pinduoduo didn't reveal any statistics about Single's Day this year.
Tmall broke the record again this year, showing some more rooms of growth potential on its Single's Day.
It's not only because of the discounts but also the growing content ecosystem around China e commerce. Live streaming and influencers marketing (Chinese KOL) become extremely important for launching new products to potential buyers.
In spite of Tmall isn't the only vendor benefiting from singles day, it's still the top 1 followed by of its competitors like jd.com, Pinduoduo and Suning.