Blog
/
BAIDU ADVERTISING COPY REQUIREMENTS
BAIDU ADVERTISING COPY REQUIREMENTS
In China SEM (Search Engine Marketing) ,the next step after creating a Baidu PPC account is to set up your account in order to launch a Baidu PPC campaign.
One important step is the draft the Advertising Copies (commonly called Ads Copy).
That will be the texts and images that Baidu user will see after searching one of your target keywords.
Some Ads are dedicated for Personal Computers and some are for Mobile phones.
Here are the Baidu Ads copy requirements:
Title: Maximum 50 Chinese Characters
Description 1: maximum 80 Chinese Characters
Description 2: maximum 80 Chinese Characters
Personal Computer:
URL / Landing Page URL: maximum 1,017 Chinese Characters
Display URL: maximum 1,017 Chinese Characters
Photo:  323pixels x  200 pixels
Mobile Phone:
URL / Landing page URL: Maximum 1,017 Chinese Characters
Display URL: Maximum 36 Chinese Characters
Photo:  200 pixels x 200 pixels
Baidu Advertising preview: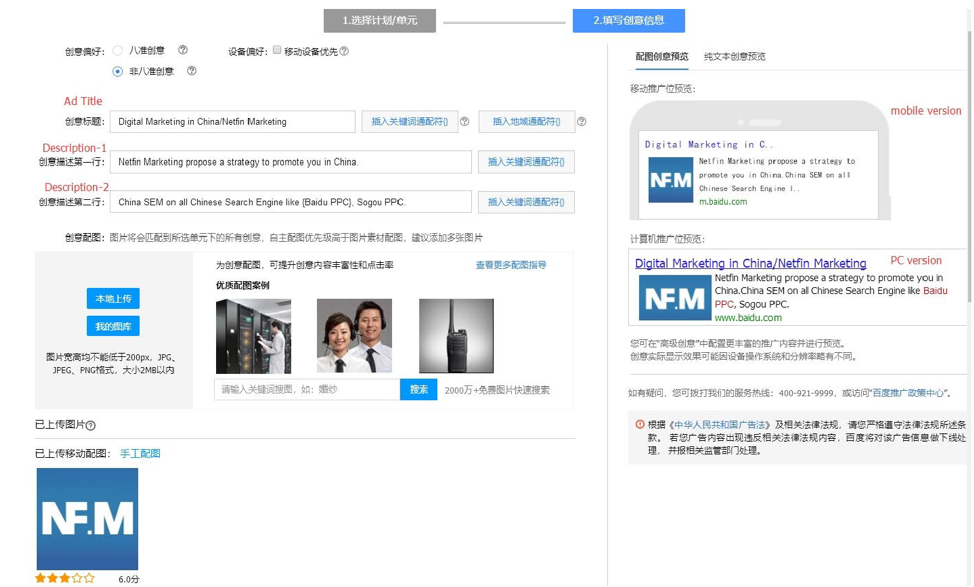 Netfin Marketing team, as China SEM expert, can assist you in drafting and uploading those Ads Copies, an important step in Baidu SEM