Blog
/
Create a Wechat store in China with Weidian
Create a Wechat store in China with Weidian
Weidian is the biggest free platform to create WeChat shops. In this article, we'll show you how to create a WeChat shop via the website Weidian. We'll learn what makes a successful WeChat shop and learn how to create it, design it and setup payments. A few things to know before you get started:
If you want to withdraw payments made to your shop, you'll need a Chinese bank account or a friend with a Chinese bank account
This solution is ideal for getting familiar with WeChat commerce or for individuals which are living in China. If your business is outside China or you expect to handle a more significant volume, you should then opt-in for a deputy company
Enough introduction, and let's dive right in…
A quick summary of what we discussed previously:
WeChat shops are websites accessed via the WeChat browser
They are usually accessed via the bottom-menu of WeChat Public accounts
WeChat shops have features such as WeChat login and WeChat payment to improve user experience on WeChat
Third party platforms (such as Weidian) enable to create these shops in a quick and affordable way
There are many platforms to sell on WeChat:
Youzan is one of the larger ones, you can read about how to create shop on Youzan here
WalktheChat (our platform) is specialized in selling cross-border via WeChat
Lewaimai is specialized in local food delivery
Weidian is similar to Youzan but it's free and can be used by individuals, so for the sake of simplicity we'll use it for this article.
Designing product pages for Weidian
Many brands thought translating product descriptions is the only thing they have to do for China localization. This assumption is deeply flawed. Translating is not enough, and there needs to be a lot of customization done in order to make product pages adapted to Chinese customers. The Western vision of product pages Outside China, product pages tend to be minimalist. Shopify is the fastest growing ecommerce platform outside China, and its design reflects the current Western design trends:
A simple product gallery
A short description
A few additional pictures to give additional context
Some minimal additional information about materials, etc…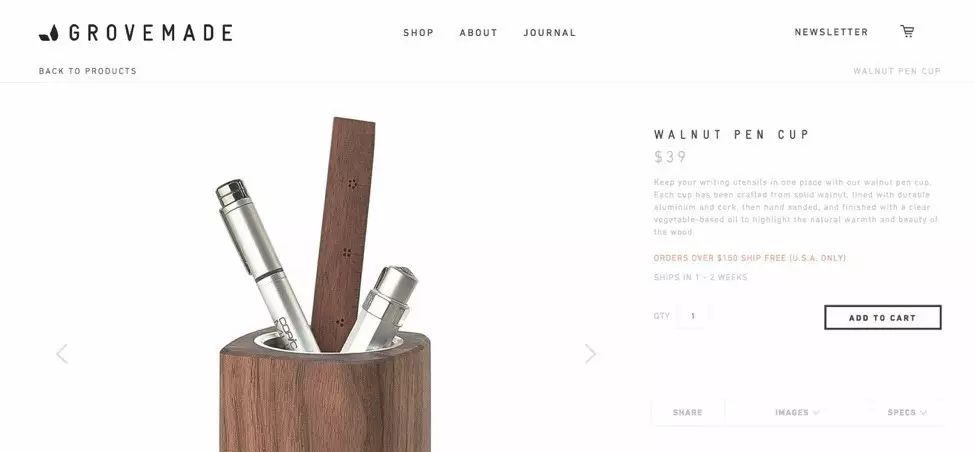 The overarching assumption in Western design is that the user trusts the brand, and that less is more. Trust is a more of a pressing concern on Chinese e-commerce, thus calls for a different design strategy for product pages. Designing product pages for Chinese e-commerce There are a few elements which are pretty much required when designing pages for Chinese e-commerce. 1. Large number of pictures extending through the page While, as we saw, Western product pages combine a lot of pictures in compact galleries, Chinese product descriptions will spread them through the page with an excruciating amount of details. Below are the screenshots of product pictures for one single product page (for casio watches) on Tmall:
The product description extends for almost 20 lengths of screen on an iPhone 7, with detailed descriptions of all the product variants and technical specificities, along with a large number of lifestyle screenshots of the product. 2. Clear description of what makes the product different Chinese e-commerce is extremely competitive, arguably much more so than in most other geographies. It means, especially in fast-growing industries such as watches, milk powder or pet food, there is need to clearly establish differentiation:
Clear quantitative reasons why the product is superior
Heavy storytelling on the sourcing of the product, especially if it has been manufactured oversea (Chinese sees this as a superior product)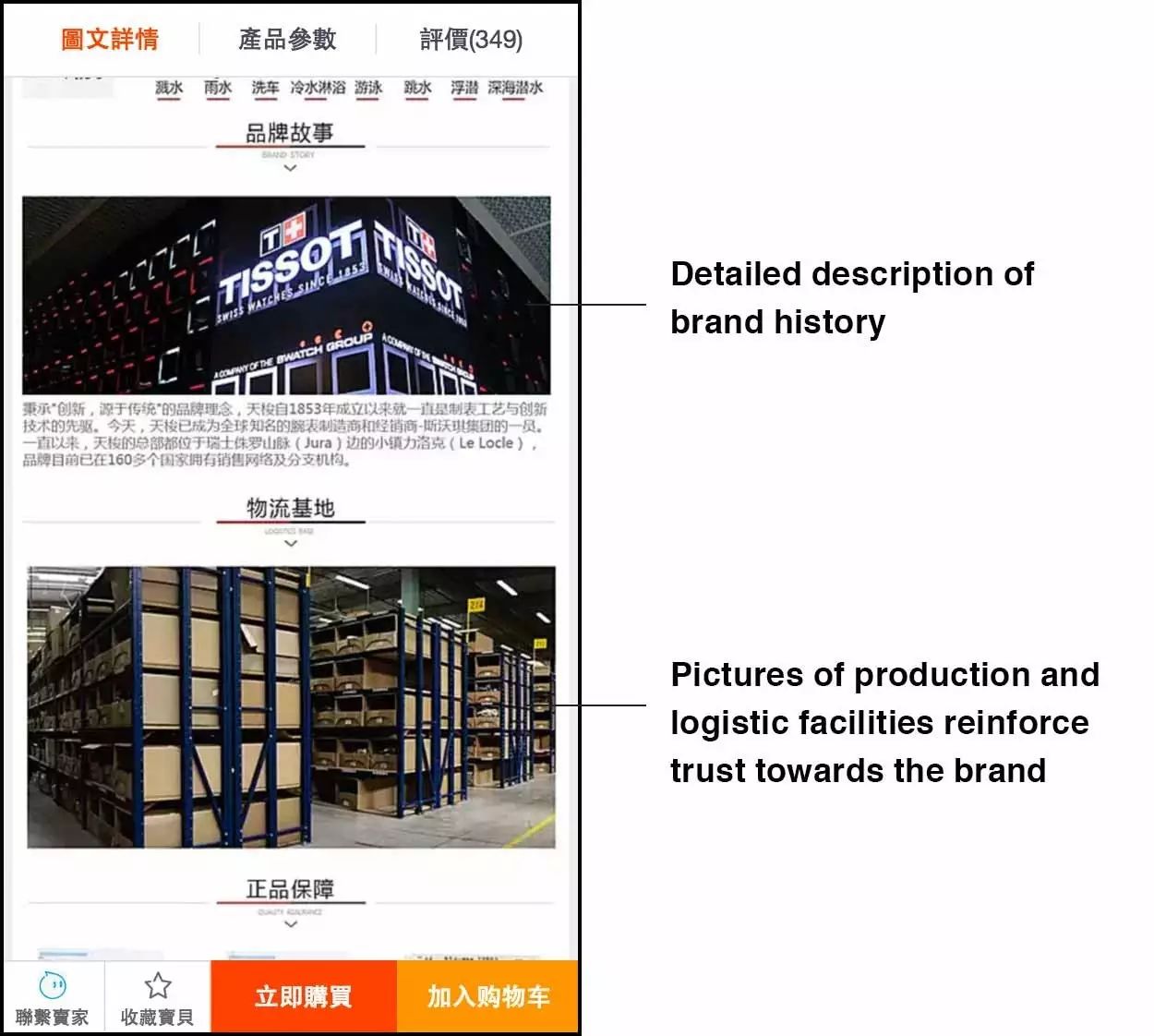 3. Social proof This is in no way specific to China, but social proof is of course essential. Users will often spend time to write in-depth comments about products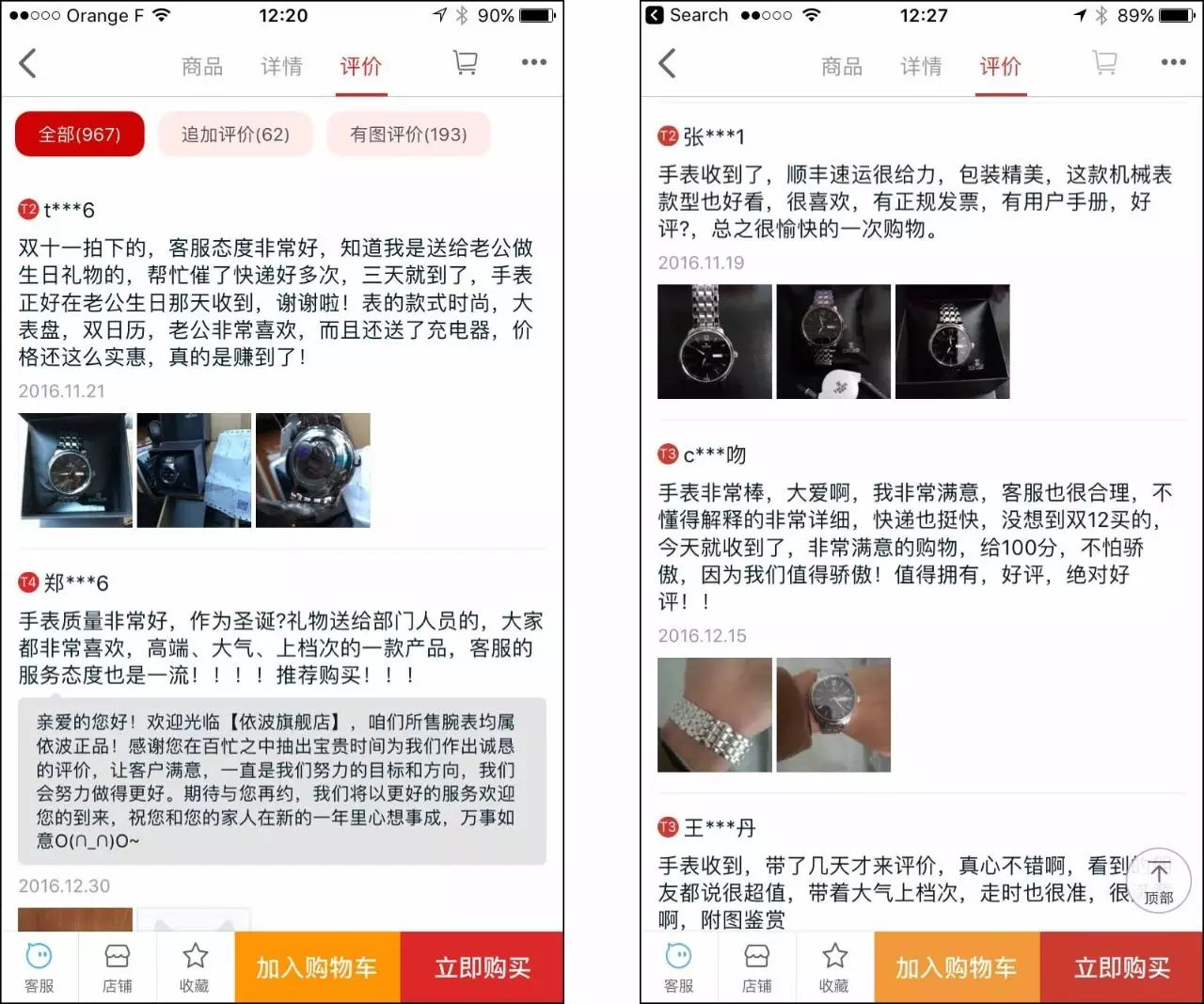 Tmall, for instance, differentiates comments in several sections:
All comments
Comments with follow-up (users write complement to their comments several days or weeks later to explain how the product holds up)
Comments with pictures
On Weidian, the comment system is simpler: users will be invited to leave a comment after they confirm the product has being delivered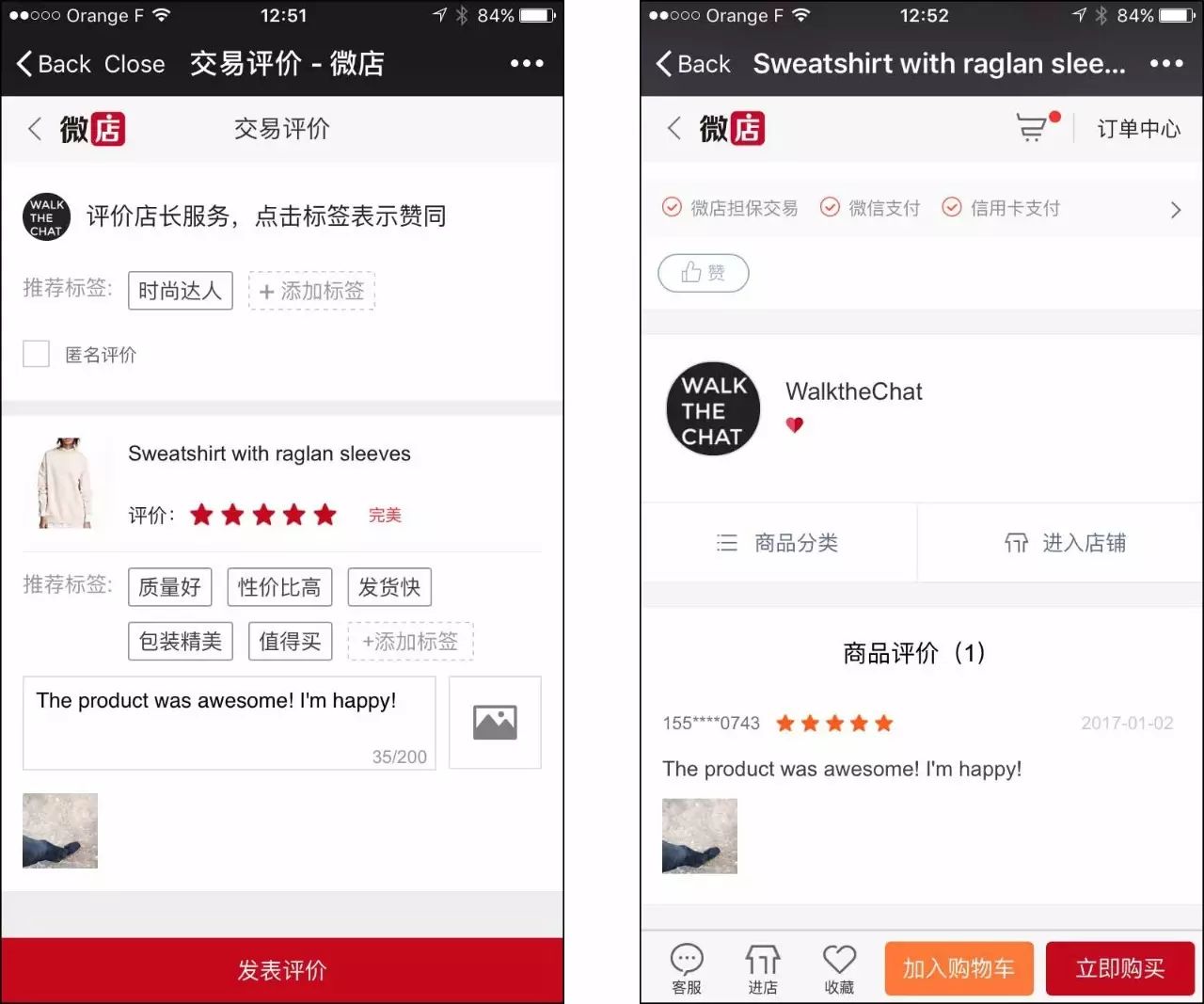 What if your product hasn't received any comment yet? Well, there is a simple way to create "fake comments", although I do not recommend it. The process to fake a comment is the following:
Take the price down to the minimum (RMB 0.01)
Buy a product (make sure to use a different phone number for each purchase)
Confirm the order
Comment on it
Take the price back to the normal level
There are several reasons why you might not want to use this technique (I certainly don't use it, neither on my stores nor on our clients stores):
It pushes you down a slippery slope of faking your data. Once you start crossing this line, there is no telling where you'll end up in the ethical scale
Faking your data keeps you from having an objective vision on your growth. That is the same reason why purchasing fake Twitter followers is a bad idea: once you have 10,000 fake followers, it gets much harder to make sense of your growth rate of 100 followers per week. The same holds true for comments or sales
Customers aren't stupid, they will be be able to tell that the comments are fake, not matter how much care you take in crafting them
So, why I am sharing this trick if I advise you not to use it? Simply because I want to be exhaustive and I prefer to share both the trick and the cautionary disclaimer than staying silent about the entire thing. 4. Inventory numbers By default, Weidian doesn't display inventory numbers. Some other stores such as Youzan do. If your inventory numbers are displayed, make sure they give customers the impression you are actually getting sales. Many stores, for instance, enter "100" as the inventory number for all of their products. Customers first visiting the website won't take long to realize that the store was untouched. Inventory numbers such as "83" or "26" will give a more "dynamic" feeling.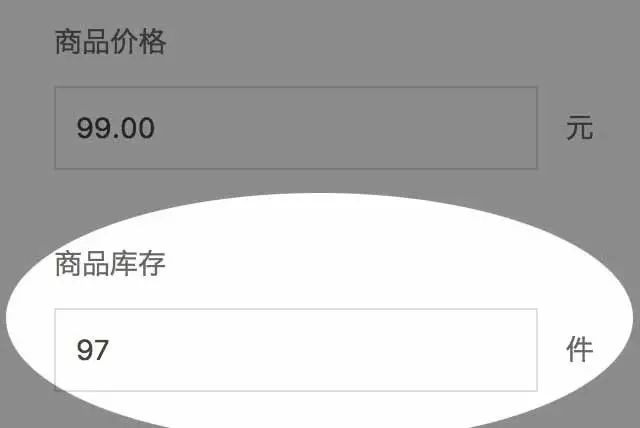 Although this technique is "gray hat", I would say it remains in the realm of acceptable business practices. Most of the time, it won't really fool anyone, but it's better than the alternative. 5. Order history Users will also keep a close eye on the transaction volume on your store. As you get your first orders, the volume of purchases for each of your products will be displayed on your store.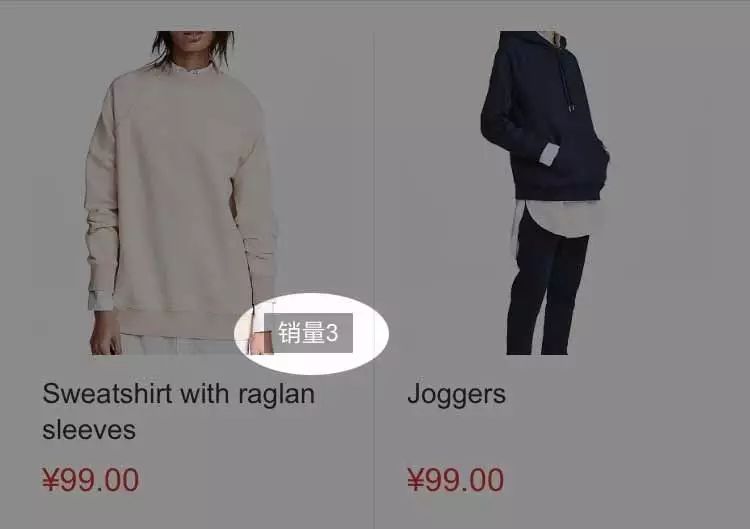 What does it mean in practice:
Start by promoting your store on channels with high conversion rate (friends & family, people in your core target group) so you can built up your order history before pushing it to the wider world
Ramp up your marketing investment step-by-step as your conversion rate will likely increase over time as social proof increases
I shall here again mention that you can use the trick I highlighted in point 3. (taking down the price, then making several orders and taking the price back up). But once again, I do not recommend it: it will create confusion in your analytics and it won't fool customers long if you're not focused on driving organic sales. 6. Detailed FAQ Weidian has a convenient function enabling customers to ask questions about a product and get answers from the store managers. These "FAQ" are then displayed for all users to see. It's perfectly fair for you to write and answer a few of the questions you think your customers may have in order to make their life easier. Simply head over to a product page, click the "向买过的人提问" (ask a question to people who bought the product), enter your question and press "发布"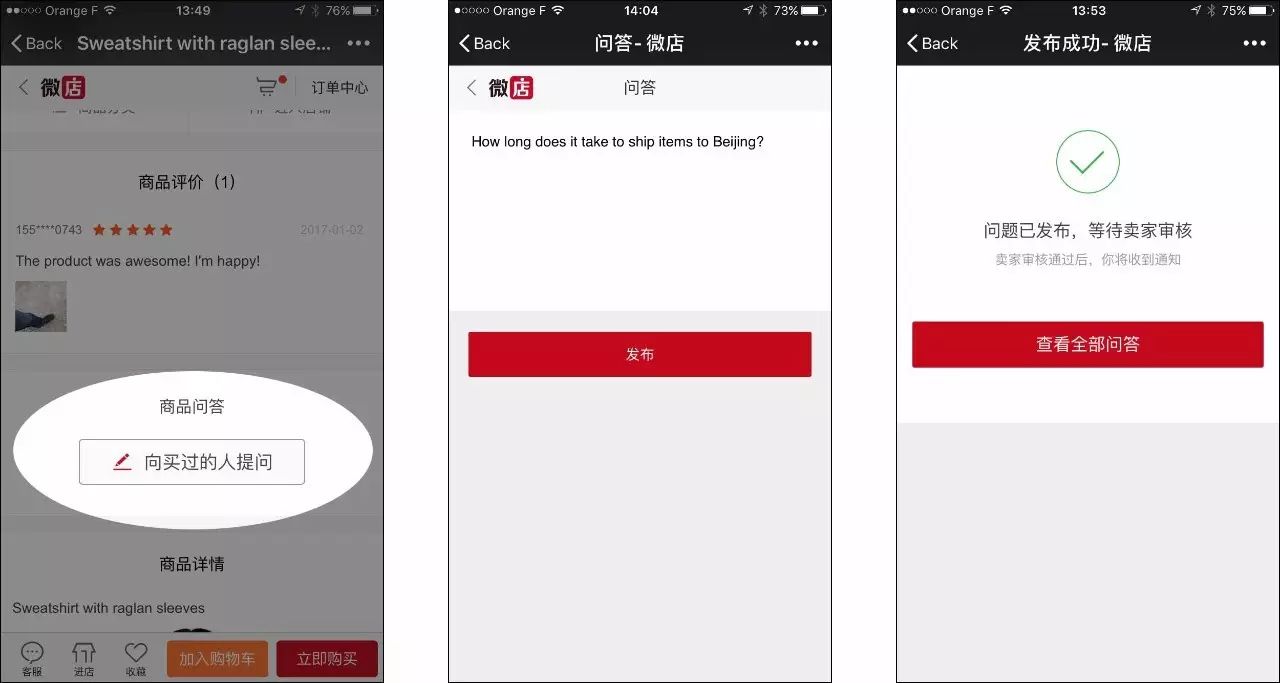 You can then head over to your back-end to answer the question. Open the APP and press the speaker icon on the bottom-left corner. In the "消息" (News) section you will see the new question appearing. Click "通过" (Approve) to approve the question which will then be displayed on the product page. You can then write "回答" (Answer) in order to give a first answer.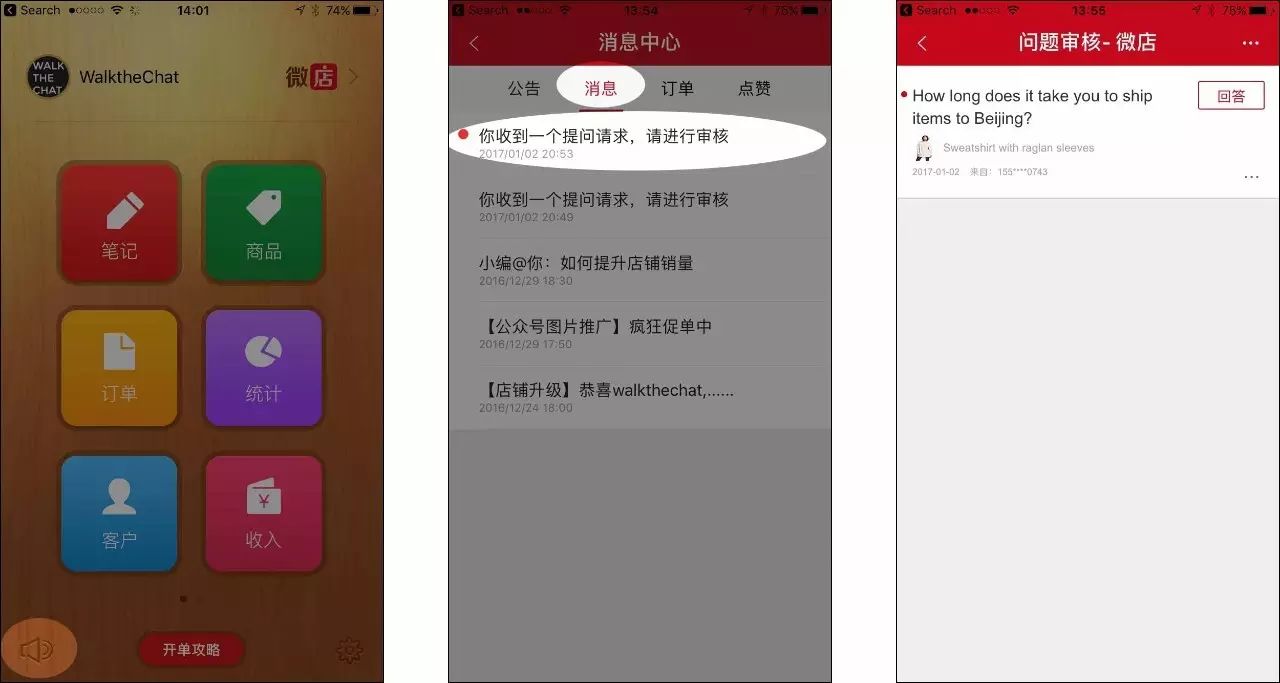 Other users will then be able to provide answers which will automatically be displayed on the product page. Tags can differentiate between answers given by the store owner (店长) or one of the customers who purchased the product (买过的人).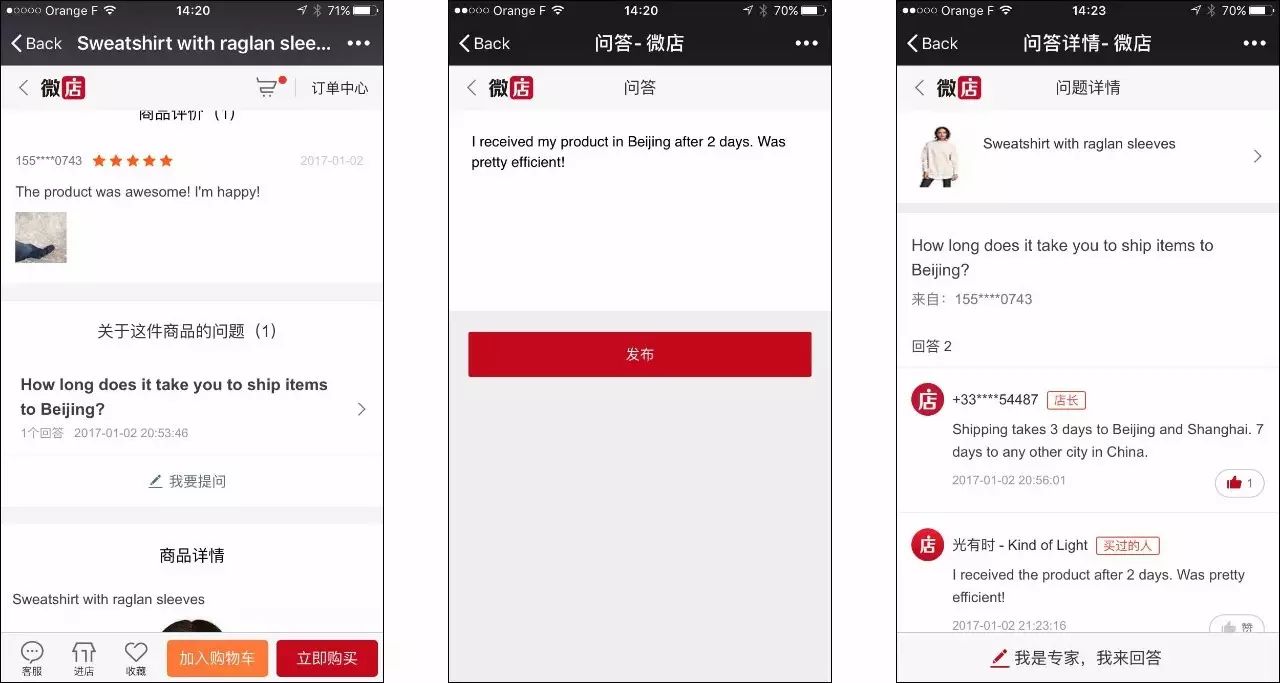 7. Certificates of authenticity Last but essential point: certificates of authenticity are very commonplace in any product store. They are relevant for pretty much any kind of product, from watches to milk powder or travel tours.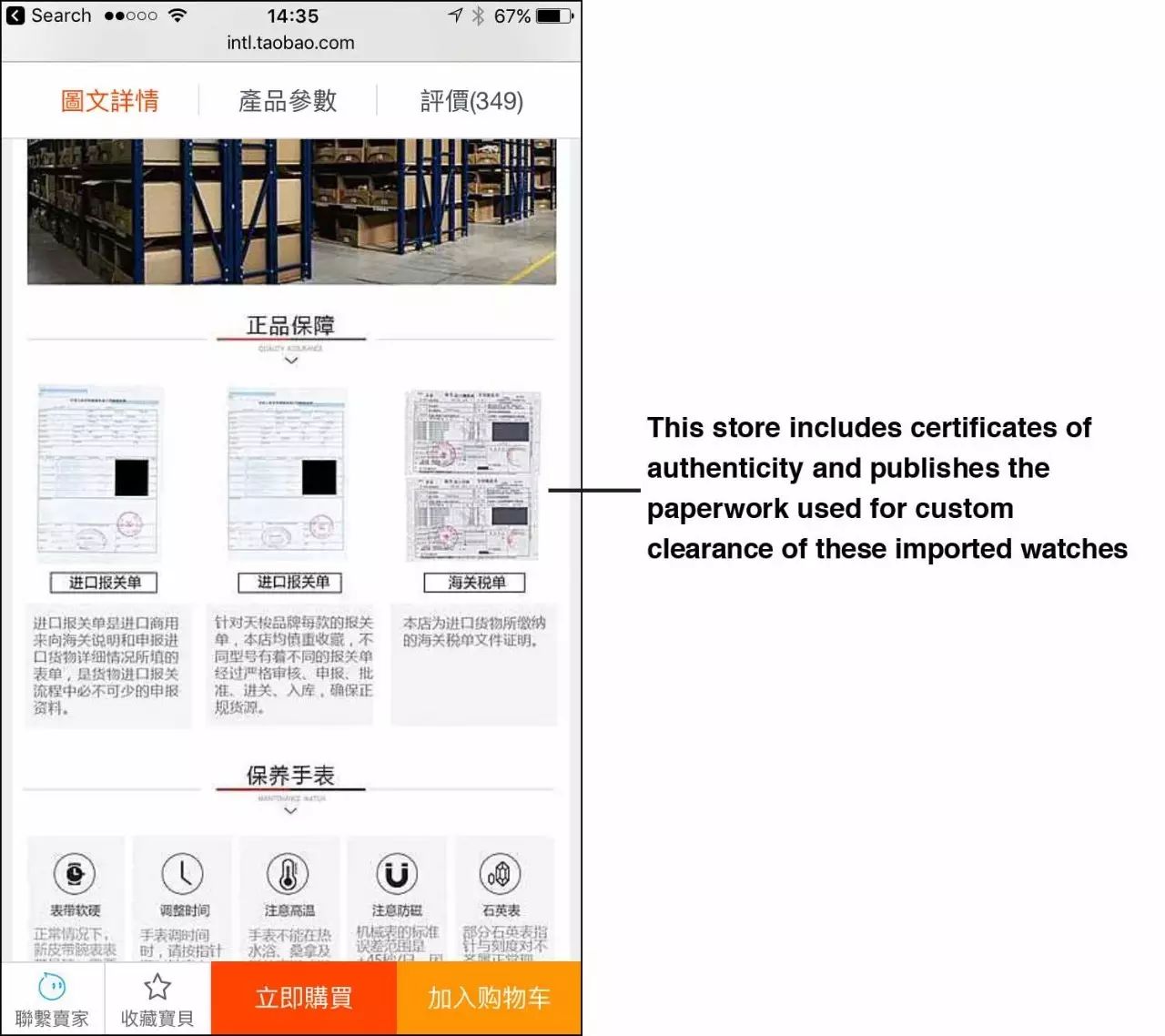 Products which are shipped directly from outside China are also considered as more trustworthy. Sometimes, customers will request the sender to include a newspaper of the day inside the package to guarantee the provenance of the product. Chinese product pages require further attention on trust. Customers in China are used to navigate through a sea or fake products on Tmall and Taobao. You therefore need to leverage every single social proof or official certificates in order to gain users' trust in this extremely competitive e-commerce market.
Home Page design
We'll now move forward by designing your home page and study what makes a successful design for mobile e-commerce in China.
Creating a custom hero banner
For this part of our process, will revert back to the "微店" APP which has some additional (and very useful) functions which are not available on the website. Go to 服务 (Services) > 排版君 (Composer) section of the APP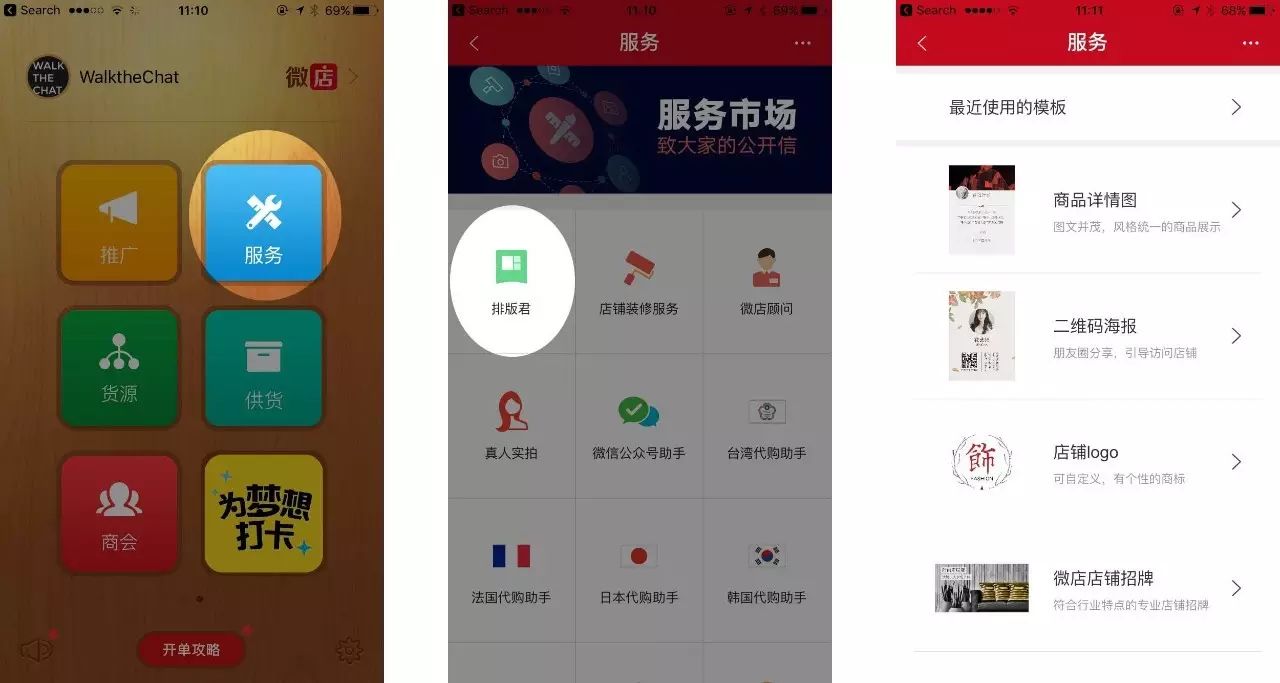 This section of the APP contains a large number of designs you can easily edit and include in your shop. Click on "微店店铺招牌" (Weidian Shop Sign) and select a design to put on the top of your Weidian shop. You can edit the text by pressing it, and then click the "去保存" button on the bottom-right corner. Long press the picture in order to save it to your phone.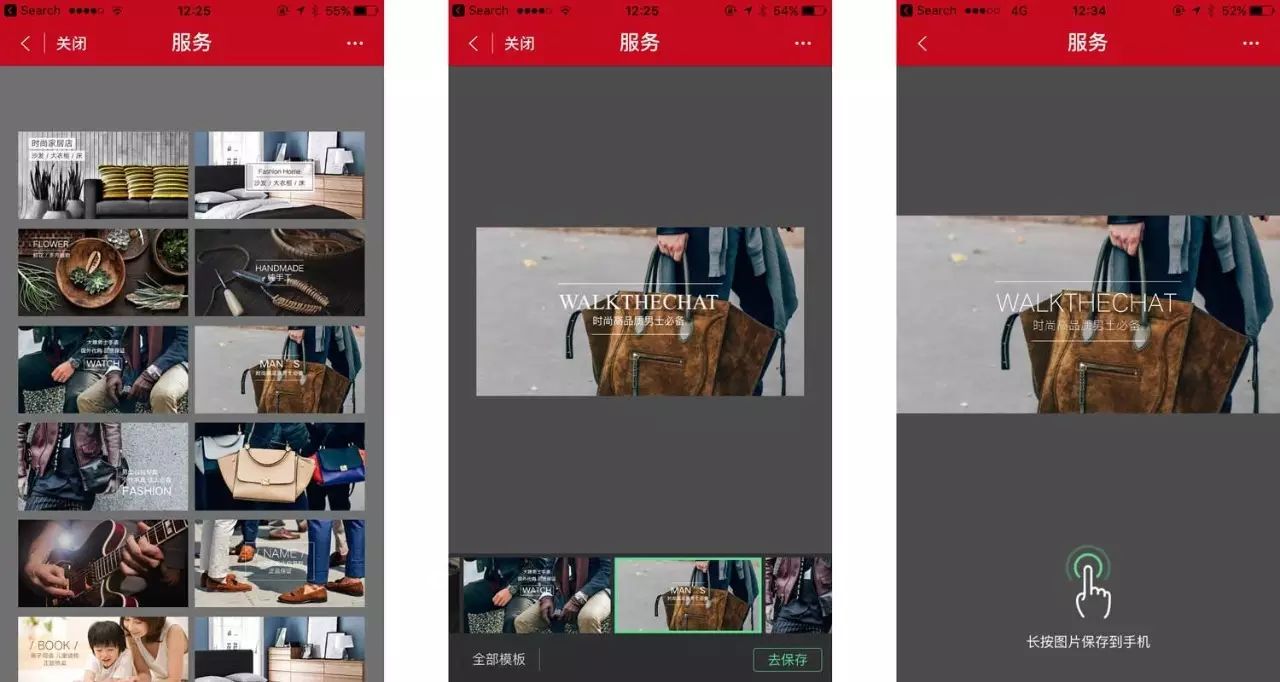 Custom QR Code banner
If you have your own WeChat account already, you can design a custom banner to ask users to follow you. Click on the 服务 (Services) > 排版君 (Composer) > 二维码海报 (QR Code Banner) tab and follow the same process as previously in order to design your QR code banner.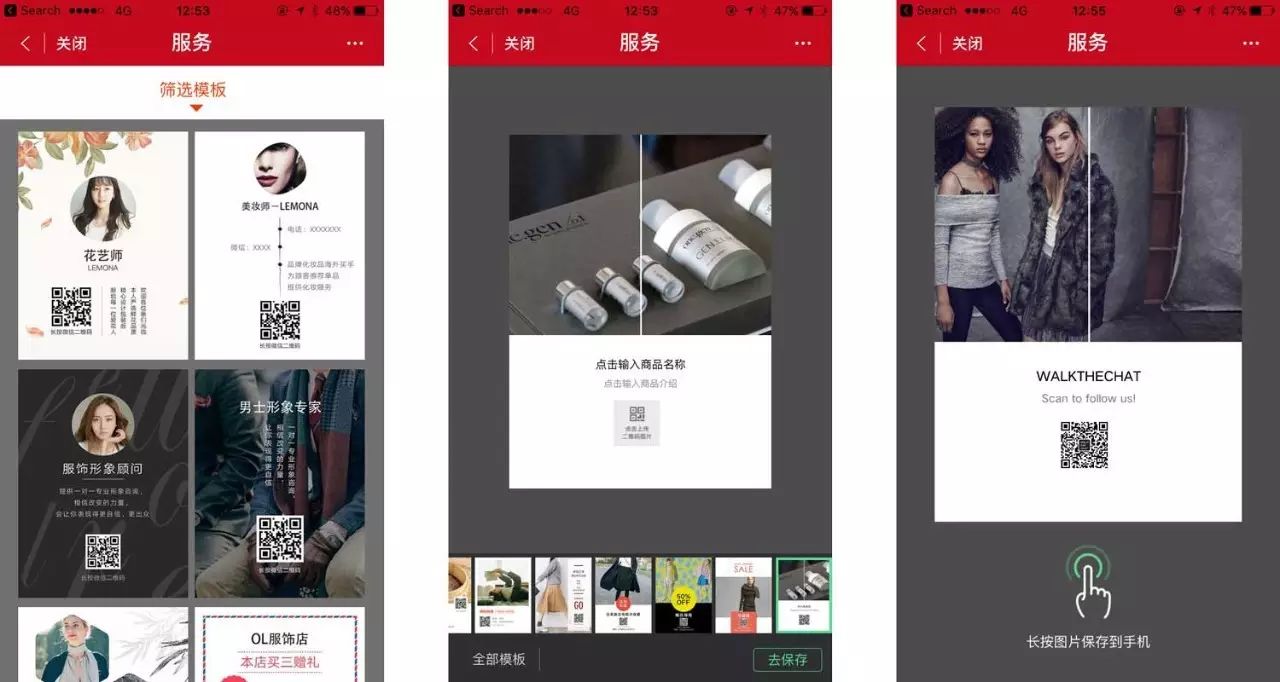 Further custom designs
As discussed in lesson #1, Chinese web design usually relies heavily on images in order to provide a wide diversity of colors and fonts which would be harder to reach with pure code. Consequently, the "toolbox" of Weidian also contains the ability to create images displaying products or categories. These are convenient to create structure and diversity inside your design. We used the 服务 (Services) > 排版君 (Composer) > "产品详情图" (Product detailed information) to create two more banners featuring product categories: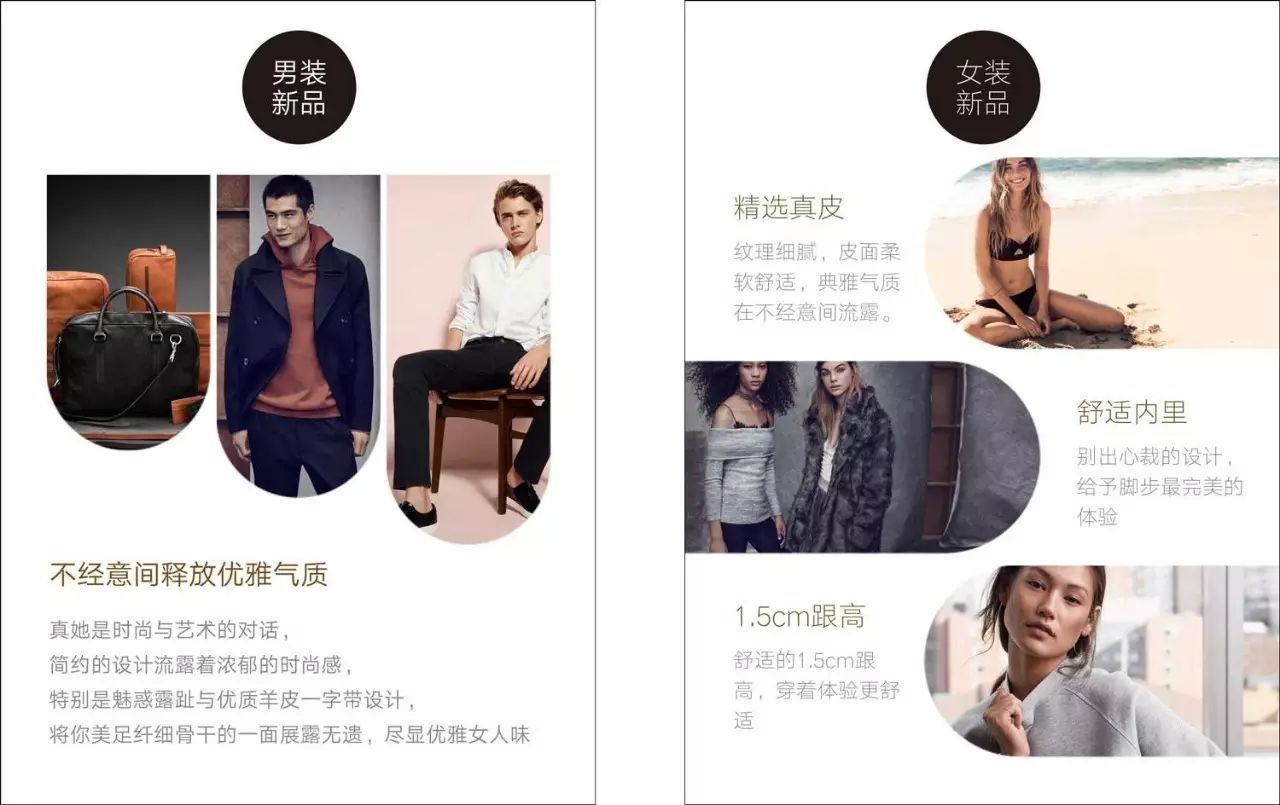 Building custom pages
Weidian also enables you to create custom pages with combinations of images and text. In order to do so, go to the 笔记 (Notepad) section. Press "添加新笔记" (Add a new note), pick a title and then "添加内容" (add content) in order to start filling your note with content. Pick "文字" (Characters) in order to start adding a first row of text.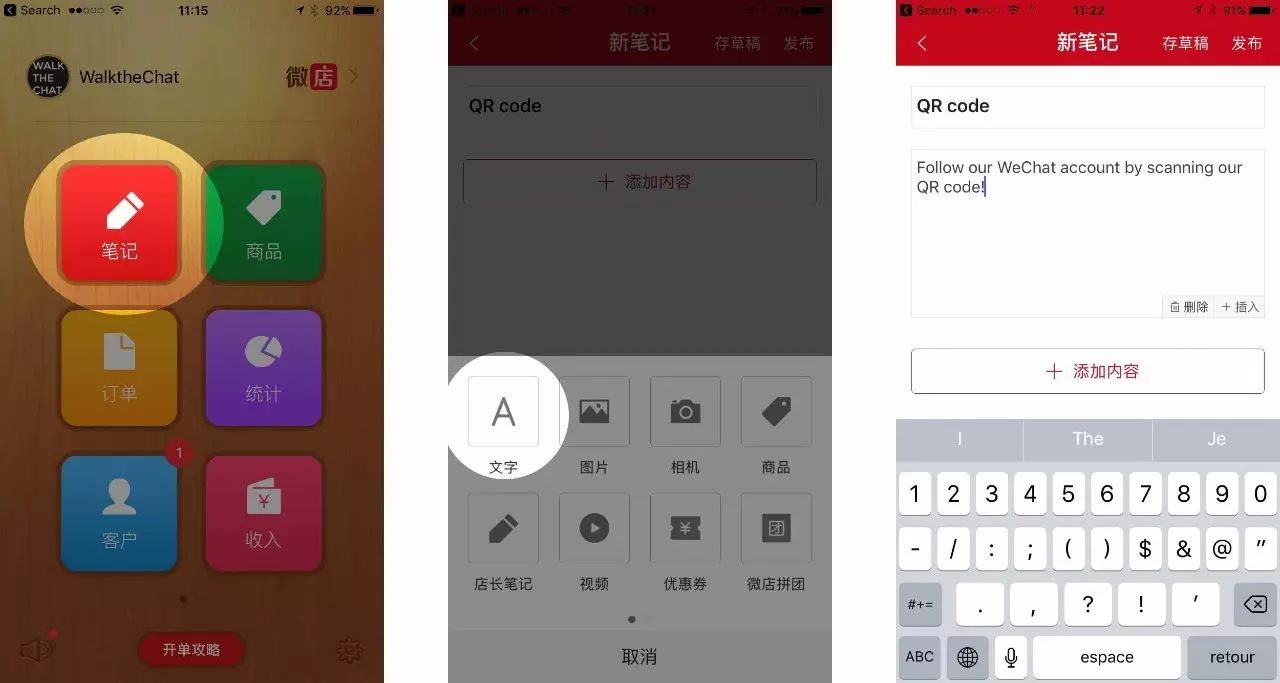 Press "添加内容" a second time and select "图片" (Picture) in order to add the QR code picture. Then press "发布" (Publish) to publish the custom page.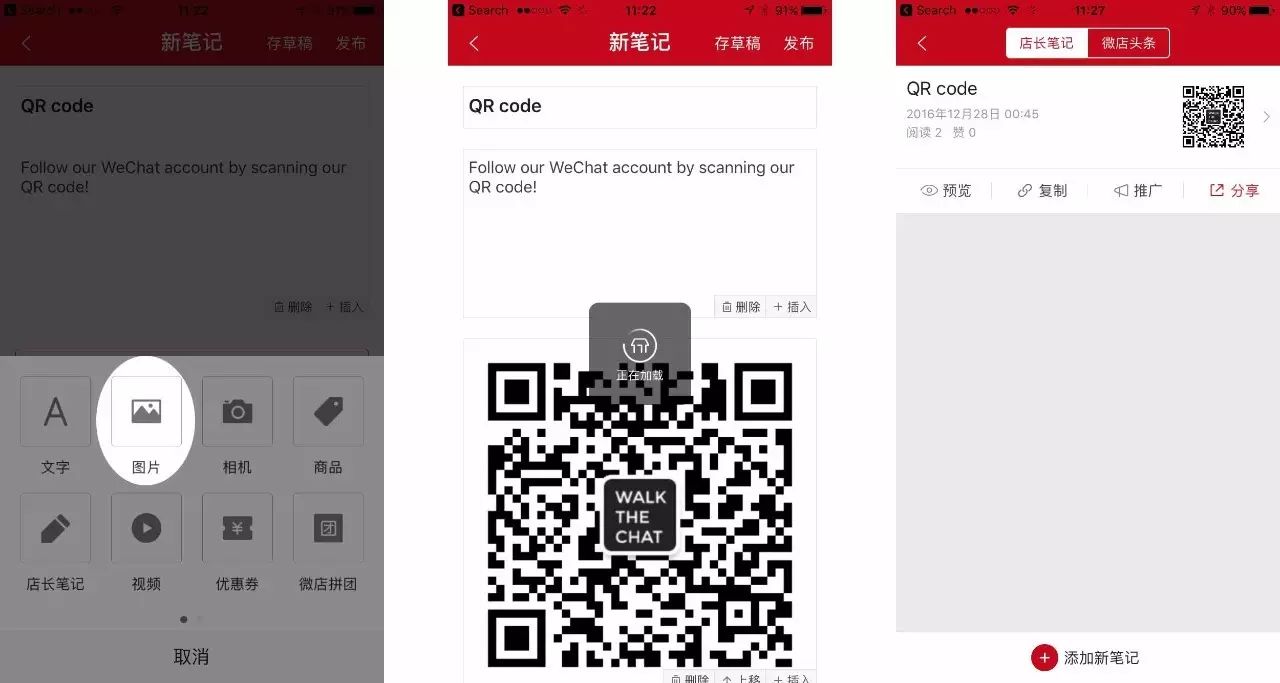 That's it! You created a custom page. Note that you could have added other elements to your custom page such as products (产品), videos (视频) or discount (优惠券).
Setting up a custom menu
The Weidian store comes with a pre-set menu with 4 items. This is a bit annoying because some of these menu items take users to content unrelated to your store. We're therefore going to get rid of this menu so your customers don't get distracted. Bad news: we're going to have to start spending a bit of money. Good news: we're just going to spend $1 or so! Head over to the 微店 (Weidian) > 微店装修 (Weidian design) > 我的 (Mine) > 开通底部自定义菜单 (Open custom bottom menu) > 购买 (Purchase) You can select the cheapest plan (7 RMB which is about $1) and purchase it with through your store in-APP purchases (no need for any Chinese method of payment)

You can now return to the same section and start editing the menu. Go to 新建菜单 (Add new menu item) and 无选项 (no multiple choice). You can then pick the name of your menu (菜单名称) and the page it links to:
联系卖家 (contact seller) links to a Weidian chatroom to discuss with customers
收藏店铺 (favorite shop) adds a button to add the current shop to user's favorites
店铺分类 (store categories) opens a side menu with the store categories
自定义内容 (custom content) enables to link a menu item to any custom page
For the sake of simplicity, we simply created a 分类 (categories) and 联系卖家 (contact seller) menu and linked them to the corresponding pages.

Note that, although this bottom-menu is recommended as being part of most WeChat stores, you can decide to disable it by toggling the 停用自定义菜单 (Stop using custom menu) switch on the menu management page.
Using our designs to build a home page
We'll now combine the various elements we prepared during this course and build our store home page. Go back to the 微店 (Weidian) > 微店装修 (Weidian design) > 我的 (Mine) section and select the template with the red 当前使用 (currently used) banner. Click 编辑 (Edit).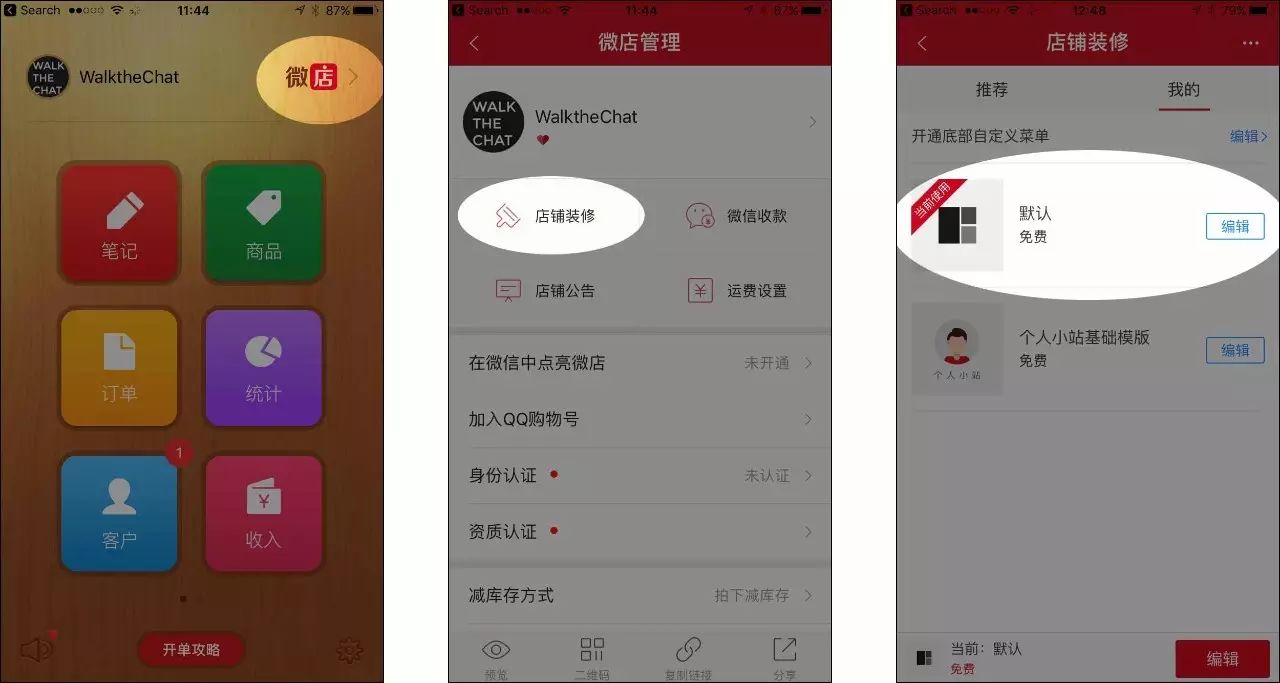 You can easily upload the banner by clicking the top element of the page, clicking 编辑 (Edit) and 更换店招图片 (Change store banner). You can also swipe on the banner to choose its aspect-ratio.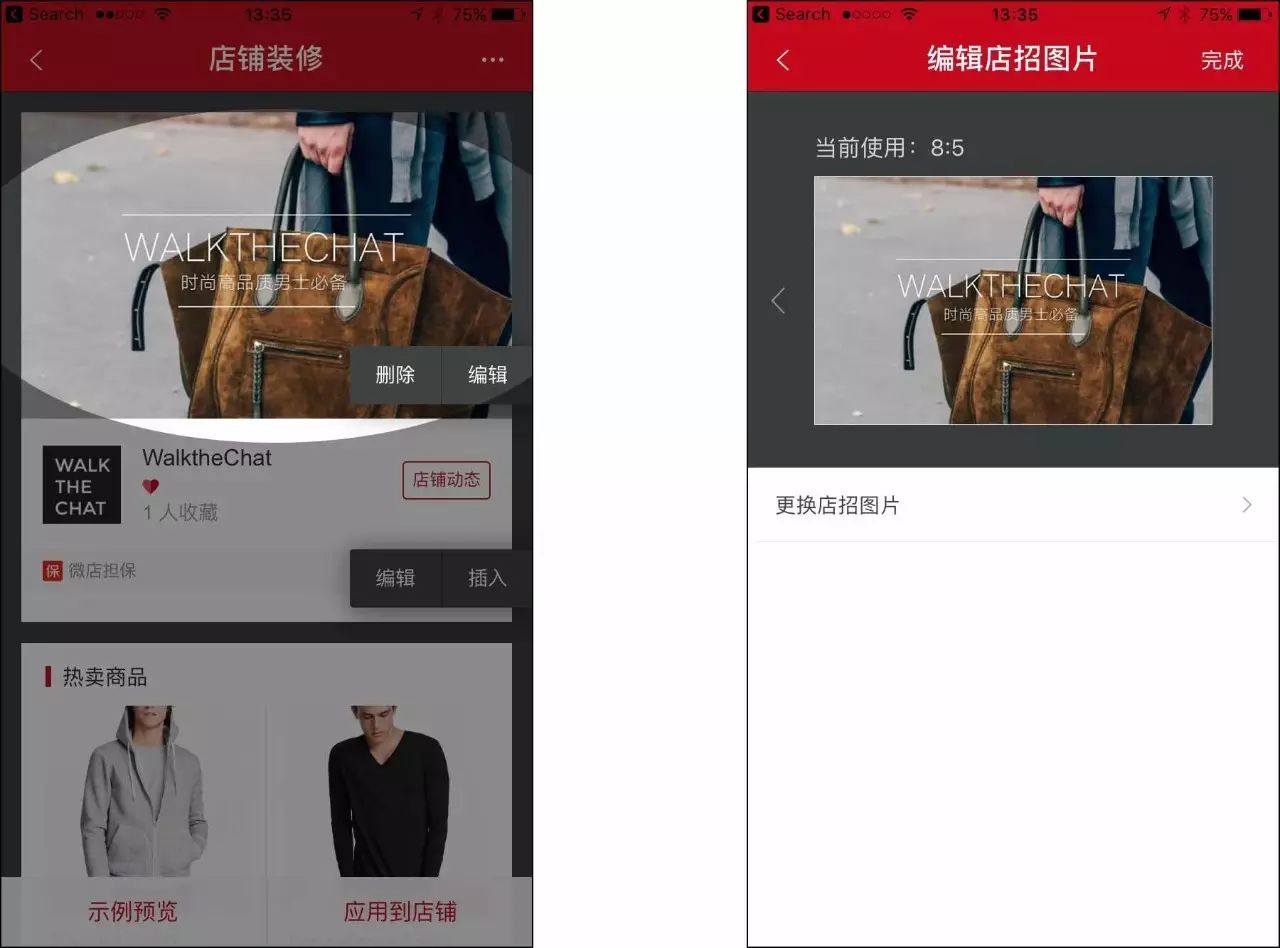 Through a similar process, we can edit the "Logo" section, change its design and the logo image (click 编辑 to edit)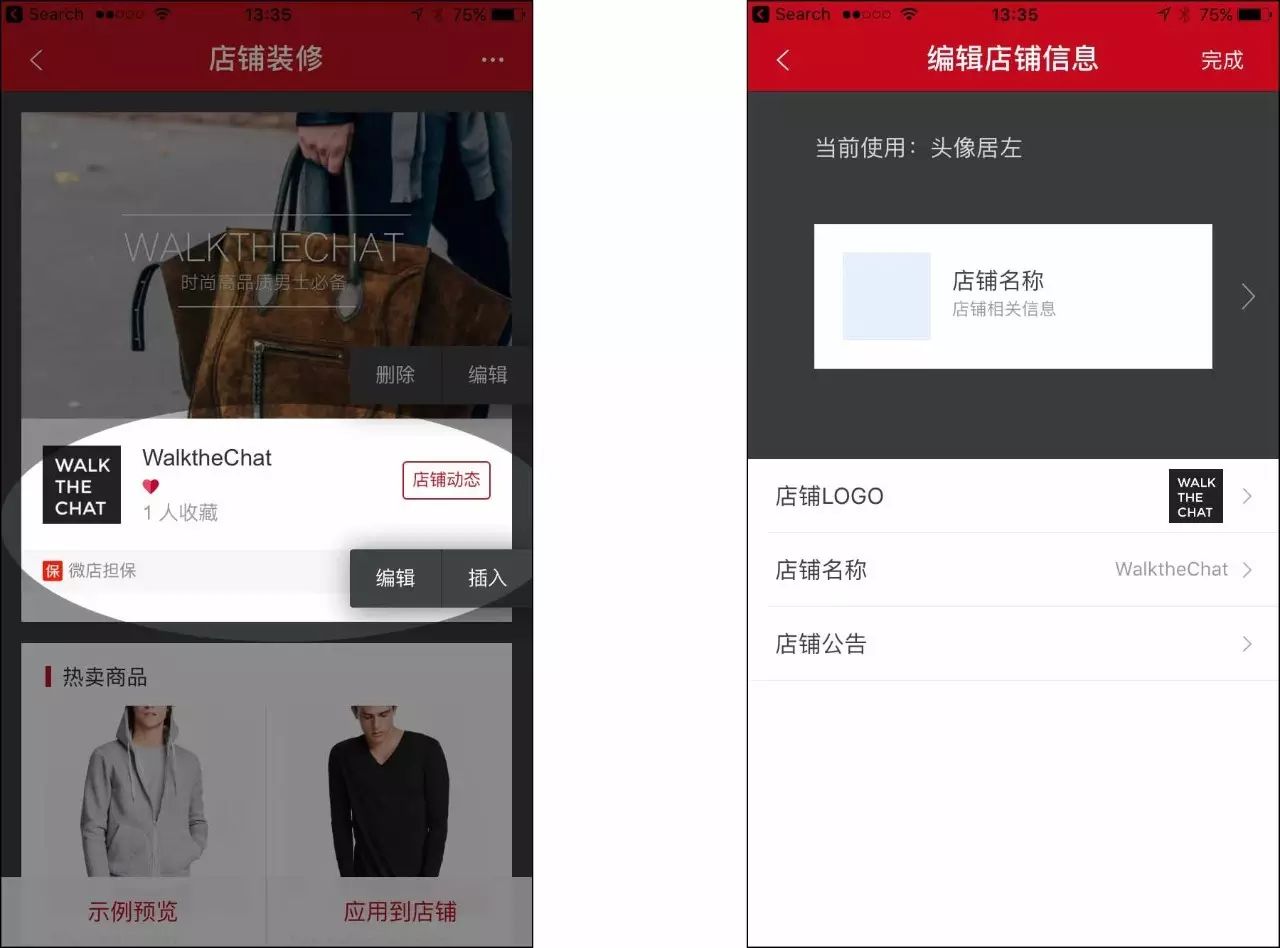 Let's now proceed to adding a category section using the banners I created earlier. Click the "插入" (Add) button on the icon banner, and select "图片广告" (Photo ad) and "图片比例不做限制" (Don't limit image proportion). Select a picture and use the 连接到 (Link to) section to link it with a category. Repeat the same process for as many categories as you want to add. Don't forget to uncheck the "显示图片间的空隙" (Show space between pictures) in order to remove the margin between the images.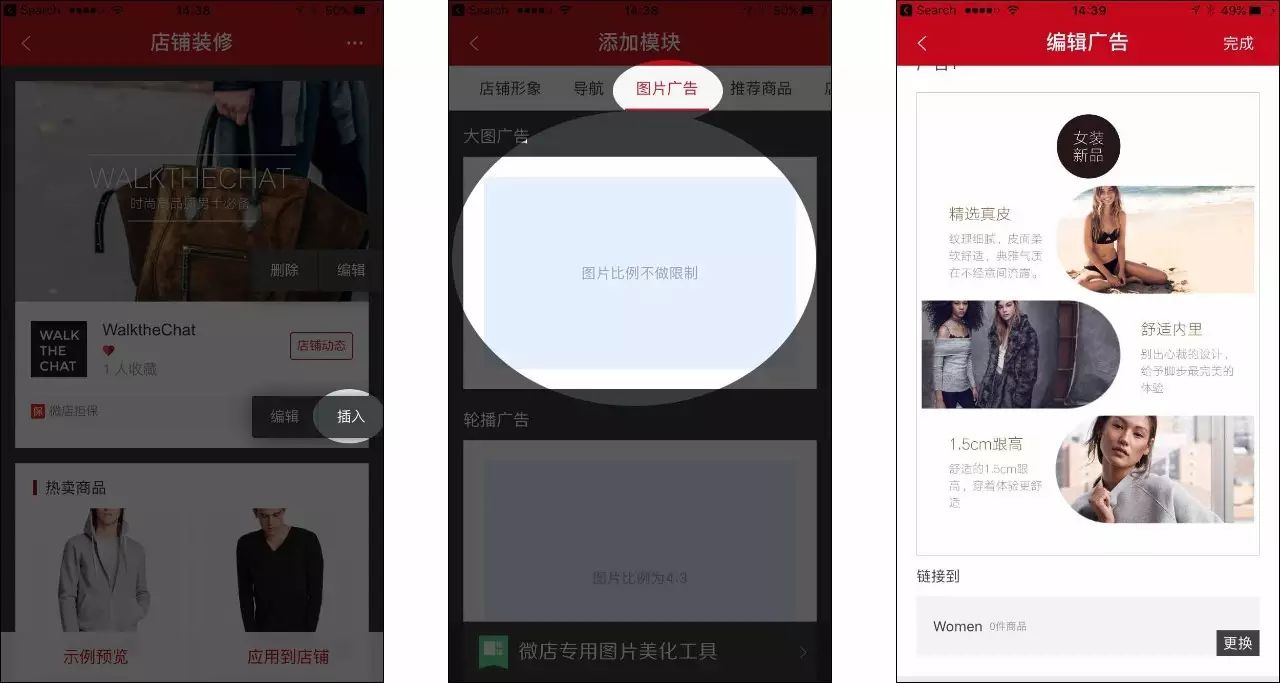 We'll do the same for the "men" category, and for the QR code banner that we'll link to the "QR code" custom page we created earlier. The final result is the following:

That's it, we created a custom home page with a simple but clean design, adapted for a WeChat shop.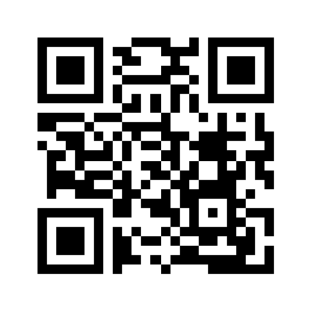 In the previous section, we dived right in into editing your Weidian store. But what if you don't have a store yet? No worry, here is a simple guide to create your store on Weidian!
You can create a Weidian account with just an email address by going to the following url: https://d.weidian.com/reg.php#/mail/step1 Start by entering your email, password and password confirmation: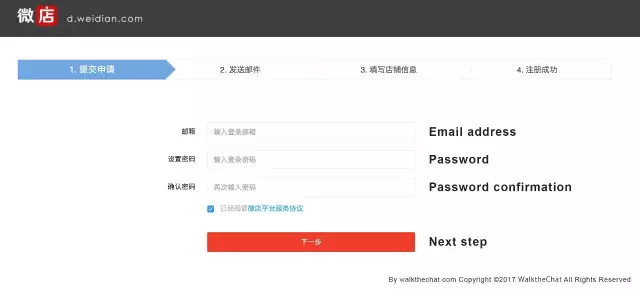 You will then be sent a confirmation email to the email address you specified. Click on the blue link and you'll be taken to the next step where you'll have to upload your shop logo, shop name and description (you can change these later) and phone number.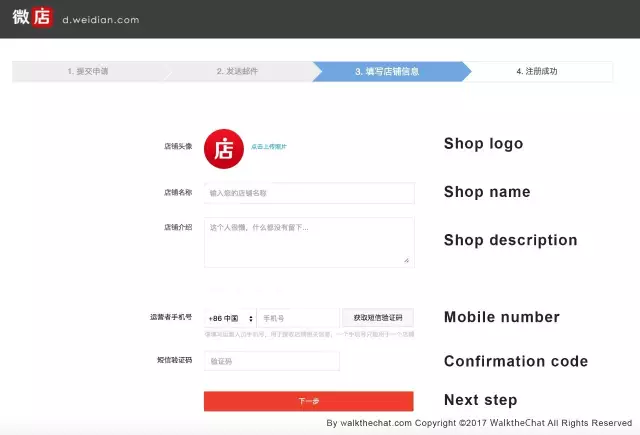 Select the correct country indicator, input your phone number and click the "获取短信验证码" button in order to get your confirmation code. That's it, your store is created!
Weidian store: quick visit
You can navigate through the left-side menu of the store.
Let's quickly see what it contains:
首页 (Home Page): contains all the basic metrics about your store
店铺设置 (Store settings): can be used to switch template and other core settings of thestore
店铺装修 (Store design): drag-and-drop section to design your home page (we'll get back to it in the next lesson)
店长笔记 (Store notes): used to generate articles from Weidian
个人资料 (Personal materials): section to verify your account
子账号管理 (Child account management): used to connect sub-accounts
提现记录 (Funds withdrawal record)
商品管理 (Product management)
分类管理 (Categories management)
限时折扣 (Short term discounts): used to generate flash sales for certain products
订单管理 (Order management)
客户消息 (Customers information)
公众号管理 (WeChat account management)
服务市场 (Service market): gathers third party services (such as CRM and ERP softwares) which can be integrated into Weidian
加入购物号 (QQ Public account): partnership with QQ to apply for a QQ Public Account
分销报名 (Weidian marketplace): this section was used to sell third party products but closed as of June 2016
实体店认证 (Store verification): enables to submit local Chinese company information and gets the store verified (thus enabling to link company bank account and get a company verification badge)
食品经营认证 (Food product verification): special verification for sellers of F&B products
出版物审核 (Media application): special verification to use Weidian as a publishing channel
品牌资质审核 (Brand application): special verification for trademarked brands
电话卡审核 (Phone credit application): special verification to sell phone credit top-up cards
担保交易 (Transaction guarantee): disclaimer linked to the fact that the platform withholds the funds from the seller until the buyer confirmed the purchase
7天退货 (7-days return): enables to open a feature enabling users to easily return goods and request a refund
保证金保障 (Safety deposit): 1,000 RMB you can leave in your store in order to get a verification badge
交易方式 (Notification methods)
处罚申诉 (Penalty appeal): this section is used in case you get a penalty and you want to appeal to it
As you can see, although there are numerous sections, only a few will concern us directly in this course:
Store design
Store notes
Product Management
Categories Management
Short Term Discounts
Order management
In order to link a (Chinese) bank card to your store and be able to collect money from buyers, you'll have to download the Weidian APP (because it is rather inconvenient to manage a store through a small screen, this is the only time in this course that we'll use the APP, but once you are familiar with the desktop version you will easily be able to use it to manage your store on a day-to-day basis) In order to do so:
Download the "微店" (Weidian) APP
Go to the "收入" (Revenue) section
Click on "绑定银行卡" (Link Bank card)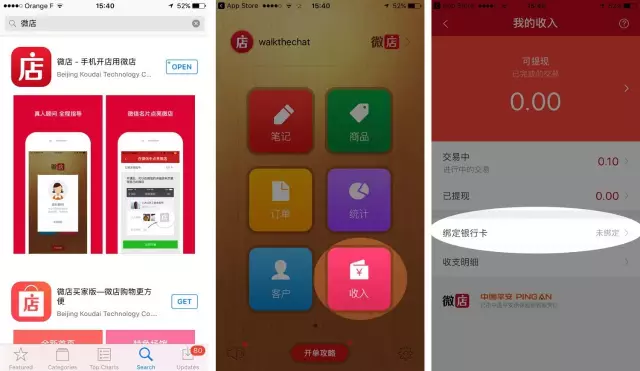 You can then link a bank card. Weidian supports any Chinese account, no matter if it is open by a Chinese national or a foreigner. If you are not a Chinese national, selection "护照" (Passport) as identification type.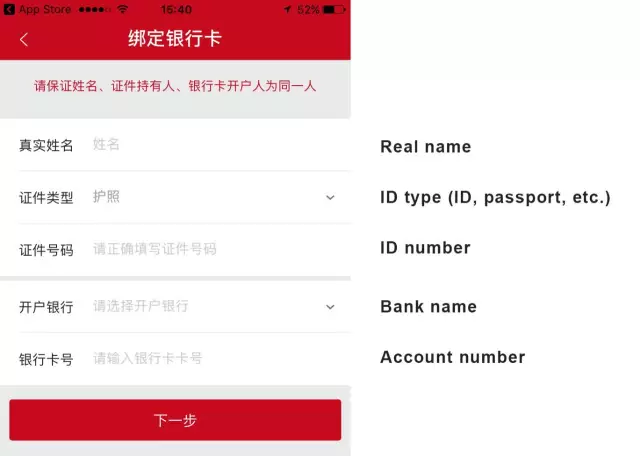 Note that you cannot link Weidian to a foreign bank account (Visa, Mastercard)
Adding product categories
Let's start by adding a few categories which will help us structure our store. Head over to the "分类管理" section and press the "添加分类" button in order to add a new category. Enter the name of the category (分类名称) and its order in the list (排序)

Press "保存更改" (Save changes) in order to save your categories
Uploading your first product
Head over to the "Product Management" (商品管理) section and click the blue "Add a product" (添加商品) button.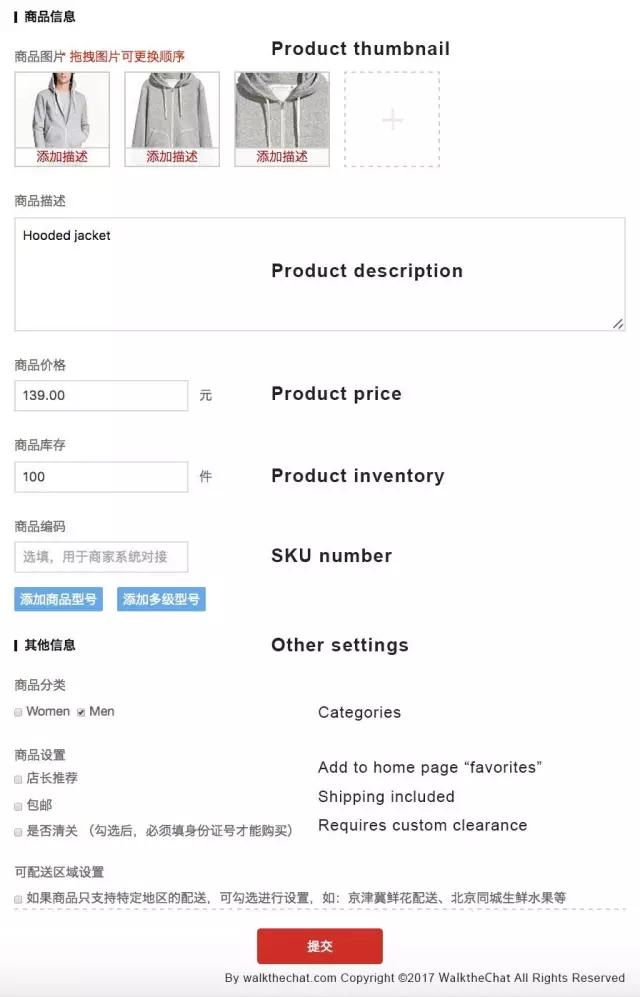 Press "提交" to submit your product, and repeat that a few times until you have a few products listed in your store. Good luck selling on Weidian!